A Revoltech tem o grande orgulho de apresentar a Asuka Shikinami Langley Plug Suit Ver. Fraulein Revoltech, diretamente do famosa anime Evangelion.
Asuka Shikinami Langley Plug Suit Ver. Fraulein Revoltech
Asuka Langley Soryu (惣流・アスカ・ラングレー, Sōryū Asuka Rangurē?) é uma personagem fictícia da série de anime Neon Genesis Evangelion e uma das principais personagens femininas. Asuka foi designada como a Segunda Criança do Projeto Evangelion e piloto da Unidade Evangelion-02. Sua seiyū japonesa é Yuko Miyamura e a versão brasileira é dublada por Fernanda Bullara.
No anime, Asuka nasceu na Alemanha, filha de mãe nipo-alemã e pai americano. Já no mangá ela nasceu nos Estados Unidos, filha de mãe solteira, porém foi criada na Alemanha. E em Rebuild of Evangelion ela nasceu na Alemanha, filha de pais nipo-alemães. O sobrenome de Asuka vem do porta-aviões japonês Soryu, seu segundo sobrenome alemão vem do porta-aviões estadunidense da Segunda Guerra Mundial Langley, e no filme Rebuild of Evangelion seu sobrenome japonês vem do destróier japonês da Segunda Guerra Mundial Shikinami. Seu primeiro nome vem de Asuka Saki (砂姫 明日香, Saki Asuka), que é a personagem principal do mangá japonês, SuperGirl Asuka (超少女明日香, Cho-Shojo Asuka?) escrito por Shinji Wada.
O designer de personagens Yoshiyuki Sadamoto explicou que "a primeira projeção de Asuka foi uma menina como a personagem principal", mas sentiu que poderia ser muito semelhante ao anime anterior que ele e Anno tinham trabalhado, como Gunbuster e Nadia . Ele sugeriu a Anno que eles mudassem a personagem principal para um menino, o que seria mais de acordo com o gênero mecha.
Yuko Miyamura, dubladora japonesa de Asuka, observou que "Asuka não era o personagem mais sincero que havia conhecido … cada vez que eu tentava me sincronizar mais perto, Asuka nunca se permitiu sincronizar comigo… Um dia, eu descobri que havia uma parede no coração de Asuka".
Especificações da Asuka Shikinami Langley Plug Suit Ver. Fraulein Revoltech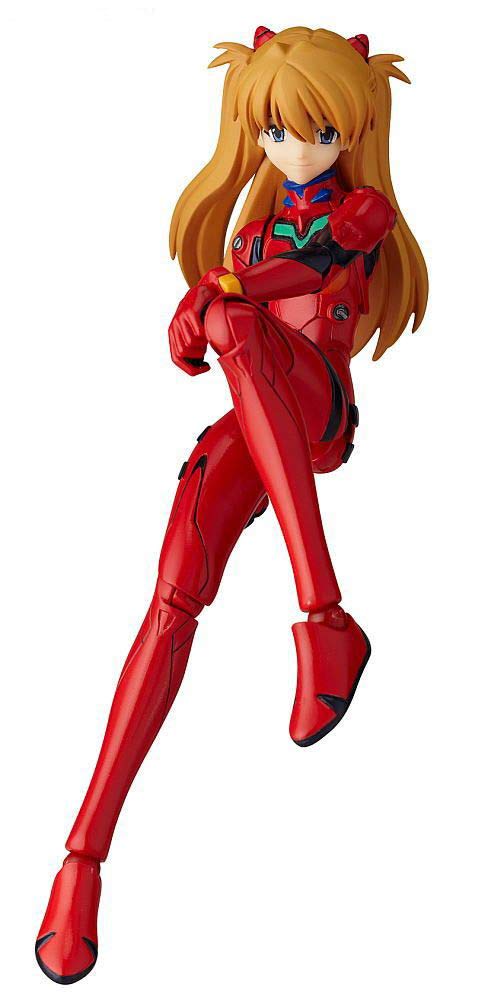 Asuka Shikinami Langley Plug Suit Ver. Fraulein Revoltech tem aproximadamente 15 cm de altura
Asuka Shikinami Langley Plug Suit Ver. Fraulein Revoltech foi fabricada em PVC